ATTENTION:  LOID will hold an EMERGENCY Meeting on October 7, 2021 at 5 p.m.  The meeting will be held in the conference room at COSD, 1522 Powers Ave.  Discussion will include Action Item on LOID Well 4. 
*****
AUGUST 2021:  The Health Department has issued an advisory that cyanobacteria is present in Mann Lake and people and animals should avoid contact with the water.   With the current low elevation at Mann Lake and such high temperatures during the day, a blue-green algae has developed. Please click here to read the full press release from Public Health.
---
**UPDATE August 19, 2021**
The current round of tests showed little to no levels of toxins from the algae within our distribution system.  Test samples were taken along the distribution system mainline spanning from 28th Street in the East Orchards to 4th Street in the West Orchards. The LOID will continue testing this irrigation season to monitor the situation.  Should this change within the distribution system, we will notify the media and post it on our website.
---
ATTENTION PATRONS:   A Message from the District Manager
The irrigation water from Soldiers Meadow Reservoir, Lake Waha, and Mann Lake is the non potable irrigation water that enters our delivery system.  This year we also have wells pumping irrigation water into the distribution system.
We do have a confirmed algae bloom at Mann Lake.  The cyanobacteria, which are part of a healthy water ecosystem, can proliferate and increase in volume during drought and warmer than normal air temps, which we are experiencing at high levels this year.
The proliferation of the algae, so far, has been at the edges and top of the water column.  Initial testing shows little to no levels of the toxins the algae produce within our distribution system. The groundwater from the deep irrigation wells LOID is pumping into the distribution system helps with dilution.   The LOID will have ongoing testing this irrigation season to monitor the situation.  Should we see a change within the distribution system, we will notify the media and post it on our website.
Mann Lake has been closed to prevent contact recreation with the water.
The irrigation water has always been non potable water.  We encourage each patron to determine their level of comfort using non potable water, including with the added algae bloom, and take into consideration the health warning issued by the public health department.
The water from Mann Lake also feeds several fire hydrants in the Orchards.  LOID cannot turn off the water from the reservoir as most of the fire hydrant firefighting capability is attached to the irrigation distribution system.  Our goal is to keep the fire hydrants functioning.
The LOID is working in conjunction with Idaho Department of Environmental Quality (DEQ), Public Health-Idaho North Central District (PH-INCD), and Idaho Fish and Game (IDFG) to help the public make informed decisions.
Barney Metz,  General Manager
JULY UPDATE:   We have been doing irrigation shut-offs for those who have yet to pay the 2020 Irrigation Assessment that was due June 20, 2021.  Once the payment has been made in full, please contact our office and we will resume water service to the property by the next business day.  
**********
With all this heat and no precipitation in the forecast, please be mindful of your watering habits. LOID appreciates your efforts to check your irrigating setup and repair any leaks.  Please adjust your watering schedule to avoid any puddling or wasteful watering.  Thank you! 
Top Ten Watering Tips
1. Don't drown
The greatest waste of water comes from applying too much, too often — much of the water is never absorbed. Instead of watering for one long session, water a few times for shorter periods and take 15-minute breaks in between each session. This will allow water to soak in, while minimizing runoff.
2. Watch the clock
Water when the sun is low, winds are calm and temperatures are cool – early mornings and evenings are best. Mid-day watering tends to be less efficient because of water loss due to evaporation and windy conditions during the day.
3. Divide by zones
Different plants need different amounts of water. Divide your yard and landscape areas into separate irrigation zones so that grass can be watered separately and more frequently than groundcovers, shrubs and trees. Both sprinkler and drip irrigation can be incorporated to achieve more efficient use of water.
4. Water only things that grow
If you have an underground sprinkler system, make sure the sprinkler heads are adjusted properly to avoid watering sidewalks and driveways. A properly adjusted sprinkler head should spray large droplets of water instead of a fine mist to minimize evaporation and wind drift.
5. Consider dripping
When it comes to watering individual trees, flowerbeds, potted containers, or other nongrassy areas, consider applying water directly to the roots using low volume drip irrigation. This will reduce water waste through evaporation or runoff, and will prevent unwanted weeds from growing.
6. Do routine inspections
Periodically check your sprinklers and hoses to make sure everything is working properly. A clogged head or a torn line can wreak havoc on your landscape.
7. Be rain smart
Adjust your irrigation system as the seasons and weather change. Or better yet, install a shut-off device that automatically detects rain or moisture. These devices are inexpensive and enable you to take advantage of the rain while conserving the water.
8. Set your mower to the right height.
Grass shouldn't be cut lower than ¾ of an inch. Too short of grass can cause an insufficient root system to develop. A deep root system helps to find water and nutrients in the soil and properly mowed grass can withstand heat and drought.
9. Have a tight seal.
Use plumbers tape to seal the connection from the faucet to hose and sprinkler to minimize the chance of wasted water.
10. Let the lawn go dormant.
Another watering alternative during prolonged drought is to let the lawn go dormant and turn brown. Lawns are amazingly resilient and can tolerate dry conditions for up to 2 months if left alone. Grass will bounce back when rainfall and cooler temperatures return in the fall, especially if it was well fed in the spring.
Make Payments / View Your Invoice ONLINE!
The Lewiston Orchards Irrigation District is proud to offer you an easy and convenient payment option, as well as view cur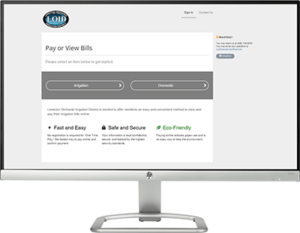 rent and past invoices!
Fast and Easy!
No registration is required for "One Time Pay", the fastest way to pay online and confirm payment.
Safe and Secure!
Your information is kept confidential, secure, and backed by the highest security standards.
Eco-Friendly!
Paying online reduces paper use and is an easy way to help the environment.
Online Payment Guide: Click HERE
---
Reclamation – Managing Water in the West
Preliminary Draft Environmental Assessment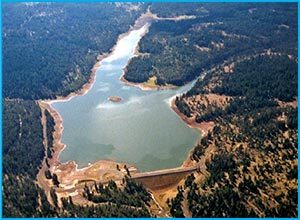 The U.S. Department of the Interior, Bureau of Reclamation (Reclamation) prepared this Environmental Assessment (EA) in accordance with the National Environmental Policy Act (NEPA) for the proposed Lewiston Orchards Water Exchange and Title Transfer Project. This EA analyzes the potential environmental impacts that could result from the implementation of the water exchange and title transfer alternatives.
Early settlers to the confluence of the Clearwater and Snake Rivers made their living by dryland farming, mining, and lumbering. Many of the settlers found the climate at the lower elevation provided for comfortable living with a good growing season for crops and orchards. In 1906, the Lewiston Land and Water Company of Portland, Oregon initiated irrigation in the area with the construction of the Sweetwater Creek Canal and Reservoir A Dam to deliver irrigation and domestic water to the dry bench above Lewiston, Idaho. To accomplish this, the company condemned Indian trust allotments on the Nez Perce Reservation owned by the U.S. in trust for individual Indians in a state court proceeding in Lewiston. The company failed to notify or include the U.S. as a party and its condemnation of U.S. trust allotments, then used for reservoirs and canals, occurred without lawful jurisdiction and remains of disputed validity to this day.
CLICK HERE TO VIEW THE OFFICIAL PRELIMINARY DRAFT ENVIRONMENTAL ASSESSMENT
---